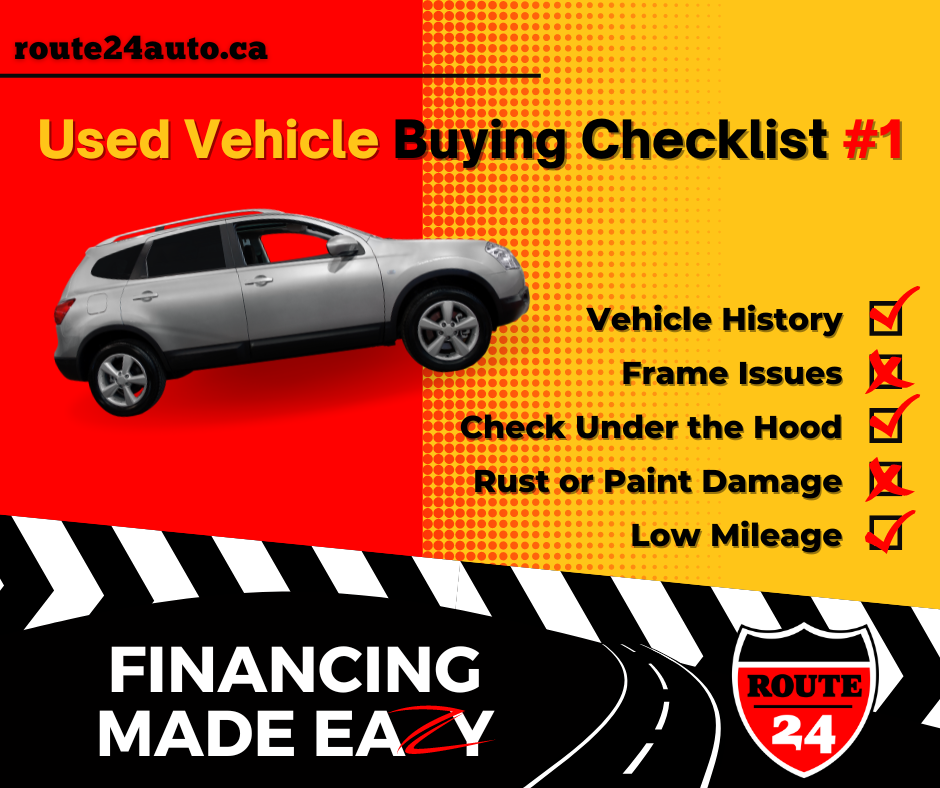 Buying a used vehicle is a great way to get and keep yourself on the road within a certain budget, and without the hefty price tag of a new vehicle. It can, however, be a bit of an overwhelming process if you don't know what to look for to make sure that you're getting a quality used car, a solid set of wheels, and a good deal. Thankfully, Route 24 Auto is here to share a little insight and make your life easier by helping you find the best used vehicles near you in Brantford!
Used Vehicle Buying Checklist:
Use this handy reference list to get you started and keep you focused on what's important andchecking for the right elements within your next used vehicle!
VEHICLE HISTORY

It's extremely important to get as much information as you can about the vehicle's history in order to determine if the car, truck, or SUV has been involved in any serious accidents, if there are any recalls, how many owners it's had, what it was used for primarily (ex: delivery or rental vehicle) and more. Carfax reports often show maintenance and repair records, which can tell you whether the car has had minor cosmetic repairs that wouldn't impact quality, versus structural damage that could cause significant issues as a result.
Route 24 Auto is careful to provide only the very best used vehicle quality possible, carefully selecting the vehicles in our inventory with years of experience, where we have developed safeguards to weed out problem vehicles. Our used vehicles proudly come with a CARFAX report, which runs the VIN (vehicle identification number) of the vehicle you've found through a registry which will tell you if the car has been involved in anything of concern. Being informed is the best thing you can do,so make sure you know your vehicle's history. The most important fact regarding accident repair is structural damage, and as a result, Route 24 Auto does not purchase vehicles with a compromised structure, no matter how cheap they may be.
FRAME ISSUES

Take a good solid look at the frame of the used vehicle while it's on level ground to see if there are any obvious concerns. Is there anything hanging below, showing something out of place in the undercarriage? Check out the bumpers to see if they appear even, whether the doors all open and close properly without squealing or stiffness, and check inside the trunk as well for proper closure, and any possible nuts or bolts that seem out of place or exposed, indicating a potential accident or repair in the past.
UNDER THE HOOD

The engine is undeniably the most important aspect of any used vehicle. While you're checking out the undercarriage for any possible issues, make sure there are no drips or stains underneath the vehicle that might indicate there's a fluid leak, corrosion, cracked belts, or hoses. Take the time to pop the hood and visually inspect the engine for overall condition, signs of concern, as well as checking the oil and transmission fluid levels. Any reputable used vehicle dealer will be happy to have you inspect under the hood, and at Route 24 Auto, we're happy to recommend you to our favourite mechanic, Ian's Automotive, who works with us to professionally inspect and service all of our quality used vehicles in Brantford.
RUST OR PAINT DAMAGE

When checking out potential used vehicles to buy in Brantford, it's essential to take a very thorough walk around the entire vehicle, getting down low and up close and personal to look for paint chips, rust patches, and body erosion. While small paint chips are easily fixed, bigger rust issues and body damage shouldn't be overlooked as a sign of wear, tear, and perhaps poor overall maintenance. If there are sections where the metal is rusted right through, you might
want to reconsider the purchase.
MILEAGE

The average car, truck, or SUV will rack up an estimated 20,000 km each year, which helps us to determine if the used vehicle you're considering has high mileage, and whether there might
be better options available to get the lifespan you're looking for out of your new used vehicle. To get a rough idea, take the overall kms on the used vehicle and divide it by the age to assess whether the vehicle might have more wear than you're currently looking for.
We hope you've found our first used car buying checklist helpful in order to help you find the best quality used cars in Brantford, Brant, Paris, Cambridge, Hamilton, Woodstock, and beyond!
​
At Route 24 Auto, we take every precaution and are proud to purchase only clean, well- maintained, safe, vehicles that meet our standards and will service your needs for a long time. Stay tuned to our website for the newest in used vehicle inventory, keep your eye on the blog for our next set of used vehicle buying tips – and swing by and visit us in person at Route 24 Auto, just down at 534 King George Road, in Brantford!