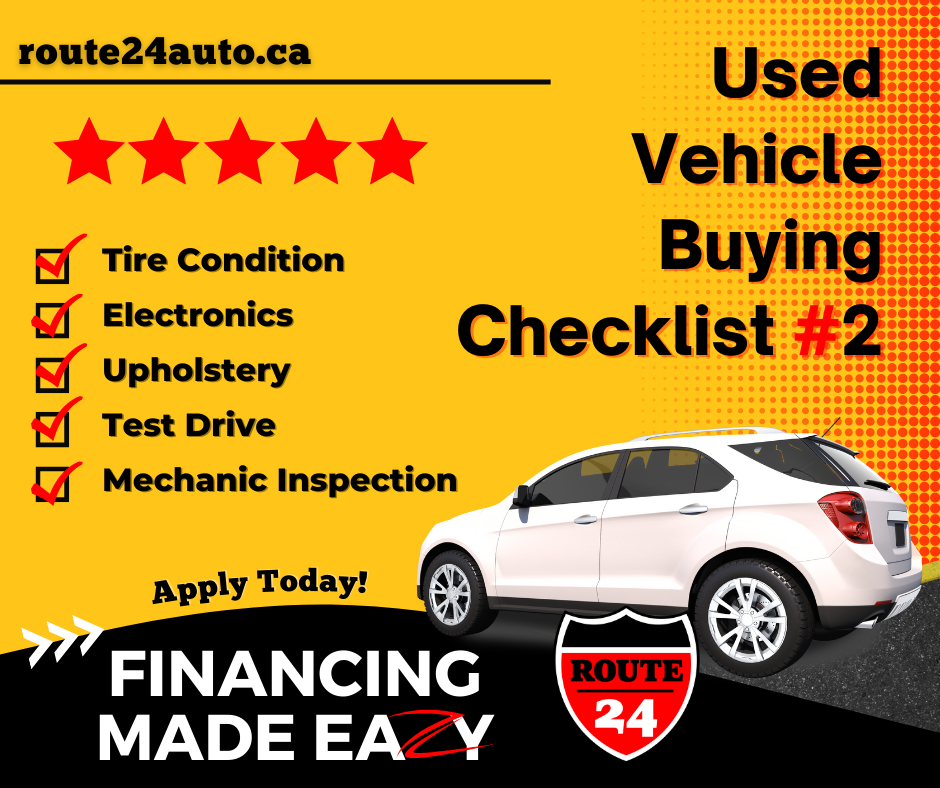 Read on for our second installment of the best of our Used Vehicle Shopping Tips from Brantford's used car sales experts, Route 24 Auto!
In our last blog, 'What to Look for When Buying the Best Used Cars in Brantford', we covered how essential it is to check out your potential new used vehicle for possible frame issues, to make sure you look under the hood, check for rust and paint damage and the concerns about high mileage. In order to help make sure you're making informed, smart decisions about the purchase of your next quality used vehicle, we're here to share 5 more must-know tips about what to look for when buying the best used cars in Brantford!
TIRE CONDITION
Hot on the heels of checking for high mileage – getting down to the ground and checking the tires is essential when considering your next used vehicle. Tires that are in need of replacement can automatically add a thousand on to your immediate vehicle costs just to ensure proper safety standards, and may have a huge impact on your budget. Check to make sure the tire tread is also worn evenly on all four tires as uneven tread or extra wear on some of the tires will often suggest the vehicle has poor alignment, which can be a symptom of additional steering, suspension, or frame issues as well. Kick those tires and give all four of them a good once over!
INTERIOR ELECTRONICS
Now that we've given the exterior of the used vehicle a thorough checkout, it's time to hop inside and inspect the interior – starting with the electronics. Take the time to flip the switches, press the buttons, honk the horn, turn on the heat, air conditioning, and defrost and check out the interior and exterior lights as well. Although it's not the most essential aspect of a new, quality, used-vehicle – be sure to turn the radio on and turn it up to check for any obvious concerns or distortions. Dim lights can be caused by something as simple as a blown fuse, which is easy to fix – but it could also suggest there might be a larger electrical issue, such as a failing alternator that you should know about.
UPHOLSTERY
If the used ehicle you're looking at is potentially going to be your new ride…it needs to have a proper seat. Being the literal driver's seat, our car interiors can take a beating with daily use, regular wear-and-tear, kids, and car seats, meals on the move, and much more. Get up-close-and-personal with the seating and upholstery to check for excessive dirt and grime, stains, rips and tears, cracked leather, issues with moving seats forwards, backwards, seat and headrest adjustments and overall condition. All vehicles come with some wear and tear, however poorly maintained interiors can be a sign of poor overall car care and replacing upholstery can be very costly.
TEST DRIVE
The test drive is likely the most crucial aspect of your entire used vehicle shopping experience. Take the time to plan your test drive with plenty of review time to check out everything on our list of things to look for – and then some more. Establish a route to test drive the vehicle so that you can properly assess potential alignment issues – does it pull to the left or right? How are the blind spots when parallel parking or merging onto the highway? Is acceleration up to speed for what it should be? Do the brakes feel like they've seen better days? Try and take a slightly bumpy path to check out suspension and test maneuverability as well.
MECHANIC INSPECTION
You've made it this far…now it's time for you to take this potential dream car to a reputable, trusted mechanic to get an assessment on the overall quality of the used vehicle you're considering purchasing. At Route 24 Auto, we work closely with a 5-star recommended local mechanic who oversees our quality vehicle care, and we'd be happy to put you in touch to book your own inspection. While this isn't a free service – it can be invaluable for your peace of mind when making a substantial purchase. If you're dealing with someone privately – it might just save you from buying a lemon that will leave you with a sour experience and subpar quality vehicle.
Find Your Next Vehicle at Route 24 Auto in Brantford!
We hope you've enjoyed our second roundup of invaluable tips and the most important aspects to look for when purchasing a quality used vehicle! Having well over 20 years of experience in the Automotive Retail Industry, Route 24 Auto consistently provides the very best product quality possible when it comes to Used Vehicles – and we'd love to set you up with a test drive today!
We have a constant, fresh inventory of quality used vehicles and we're proud to offer financing, making it easy for you to get a loan – and a great used-vehicle – all under one roof, no matter what your credit situation looks like. Apply online right now for easy financing for your next used vehicle purchase and swing by Route 24 Auto in Brantford with your trade-in today!