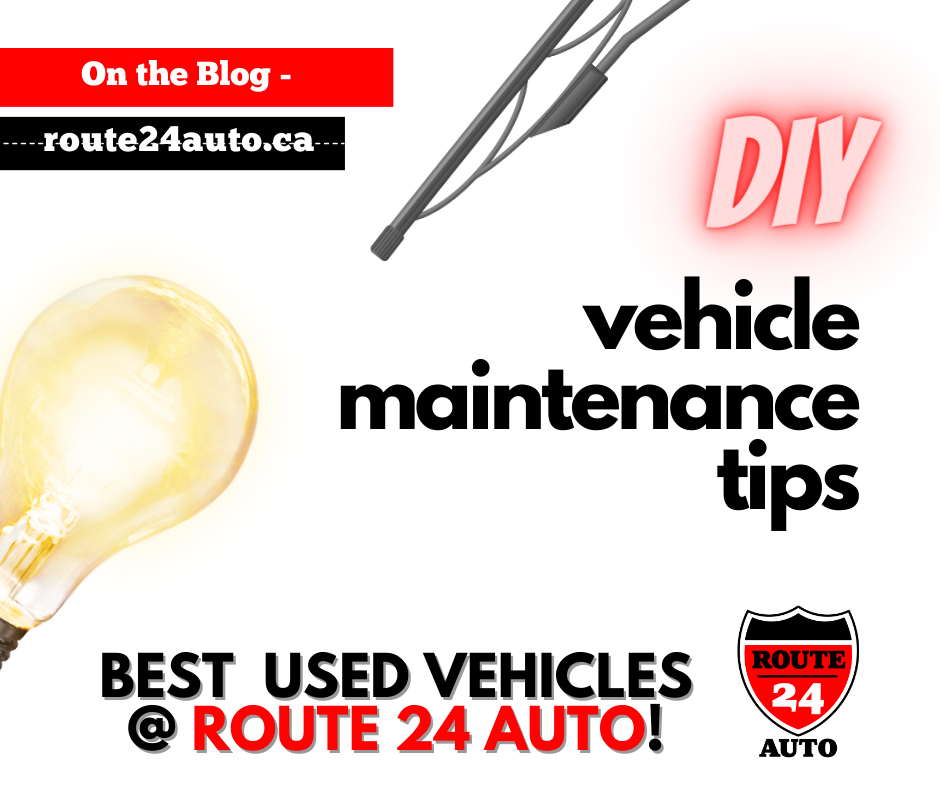 Are you in the market for a new used car in Brantford – but you haven't found 'the ONE' just yet? Whether you're saving up, hoping to make it just a little bit longer with your current wheels, or you're in the process of used vehicle shopping – learning a few vehicle DIY tips can help you prolong your vehicle's life, and help you keep up on valuable maintenance.
So – grab yourself a couple of tools, and get ready to save yourself a few bucks with help from Route 24 Auto's best used vehicle DIY maintenance tips!
1) Replace Your Wiper Blades
Are your wiper blades leaving you with a clear, streak-free finish on your windshield? If not – chances are it's time for a wiper blade replacement. While the better quality name brands will cost you a few extra bucks, you'll be able to get a quality set of rubber blades, complete with easy installation instructions at your local auto parts store that will hold up and do a great job. Be careful when installing to avoid any scratches or mishaps with your windshield glass and get ready for a much clearer ride.
2) Top Up and Replace Fluids
It's essential to keep your vehicle's fluids topped up to ensure safety and reliability for your ride. Watch for warning signals and lights to ensure that brake fluid, oil, coolant, power steering fluid, and windshield-washer fluids are all at the appropriate levels. Topping them up is easy – simply consult with your owner's manual to ensure the proper products are being used, use a funnel to make sure spillage doesn't occur, and top fluids up to the fill line indicated.
3) Clean Your Foggy Headlights
Foggy, dirty headlights can make driving at night difficult and more dangerous. Thankfully, there's an easy fix at your local auto parts store that won't cost you an arm and a leg – a headlight restoration kit! Choose a quality product with reputable reviews and simply follow the instructions within the kit to bring your headlights back to life.
4) Touch Up Chipped Auto Paint
If left unrepaired, paint chips in your vehicle's body will rust over and begin to spread, causing a much bigger problem. Grab yourself some soap and water and wax and grease remover for cleaning, a soft cotton cloth, matching touch up paint, and a fine tip paint applicator. Clean the chip with soap and water first, then wax and grease remover, before letting it dry. Once dry, be careful to not apply too much paint, and dab the paint chip with the paint applicator. Let the paint dry…and voila! Wait 30 days to add a coat of finishing wax to ensure an even finish that looks great and won't add to additional rusty problems in your vehicle's future.
5) Fix Leather and Vinyl Upholstery Tears
Upholstery tears happen – but they don't have to be an expensive repair or replacement. Once again – head to your local Brantford auto parts store, and find an inexpensive vinyl and leather repair kit, which may not be a perfect material match – but it's certainly better than driving around with torn seats that will only continue to rip and tear. Follow the guide within the repair kit to patch the rip and save your seats for another day. We also suggest cleaning and conditioning your seats regularly to help keep up with maintenance and quality vehicle care.
6) Replace Engine Air Filter
It might sound a little intimidating, but it really isn't! First, inspect your engine air filter periodically, and replace if necessary with a few quick and easy steps. Unscrew or unclip the fasteners in the air filter box and remove the old, dirty air filter. Replace the old filter with a new one, designated in your owner's manual, secure the retainers and cover again – and off you go. Easy peasy!
7) Clean Out the Interior With a Little DIY Detailing
The crevices, nooks, and crannies in your car are a haven for dust, crumbs, and various other bits of grime and dirt. Use a paint brush or toothbrush with a spritz of car cleaner to catch dust and dirt in hard to reach spaces. Use window cleaner on the inside of all windows, and if your backseat floor mats are filthy and beyond cleaning, consider replacing them with carpet squares from your local hardware store.
8) Monitor and Maintain Tire Pressure
Without fail, tires will lose air. Make sure to monitor tire pressure monthly to maintain proper tire pressure for your vehicle – under-inflated tires will cost you more in fuel, and over-inflated tires can increase the risk of a dangerous blowout while driving. Keep an eye out for uneven wear, bulges, low tread, and other damage.
The Take-Away
These easy DIY vehicle maintenance tips can help keep you on the road and save you some money as an alternative to professional repairs. If you have a vehicle you're looking to trade-in, we'd love to see it! Swing by Route 24 Auto today to show us your well-maintained wheels, or to check out a new set from our current used vehicle inventory! See you soon at Route 24 Auto!